2022
Place Holder
Between artist book and collective essay, Place Holder is a working process between eleven artists and researchers conducted through a series of thematic conversations reflecting on their participation in the Caravan residency, which brought the group variously to Alexandria (Egypt), Athens (Greece), Biella (Italy), Brussels (Belgium), Marseille (France), and Nicosia (Cyprus) over the course of four months at the beginning of 2022.

Contributor: Chiara Cartuccia, Onur Çimen, Lodovica Guarnieri, Stella Ioannidou, Sara Fakhry Ismail, Zeynep Kaserci, Gabriele Leo, Mark Lotfy, Omnia Sabry, Mahmoud El Safadi, Islam Shabana and Virgil b/g Taylor.

2021
Die Vertraute Welt
You will find thematically reflections and intimate contributions on the "trusted world" and the construction of the "Other" and written interventions on the question of how can "we" collectively fictionalise new realities.

Contributions by: Tita Salina & Irwan Ahmett, Franziska Gerth, Rodrigo Andreolli, Gian Spina, Trakal, Samuel Georgy, Areej Huniti, Anna Zett, Ki Hyun Park, Noor Abed, Felipe Steinberg, Beatrice Schuett Moumdjian, Jafar Al Jabi, Julia Kiehlmann, Eliza Goldox, Yvonne Buchheim and Omnia Sabry.

2020
offset print

Gently Sparkling
Featuring: In Search of the Lost Children of the Pearly Lands

Artist-led publication printed with MMAG/ Foundation. The aftermath of the residency Acts of Simulation.

2019
hand-knitted book.

text, C-Prints and colored photograms on fujicolor crystal archival paper
Another Transitional Phase: the blind, the deaf, the ageusic, the anosmic, and the numb

Commission of and presented in Contemporary Image Collective (CIC Cairo), Mohassasat exhibition, 2019.
2018
hand-knitted book

text, illustrations, digital prints of photograms
After witnessing the end of the world

Commission of and presented in Khalil Sakakini Cultural Center - Debt exhibition, Qalandiya International, 2018.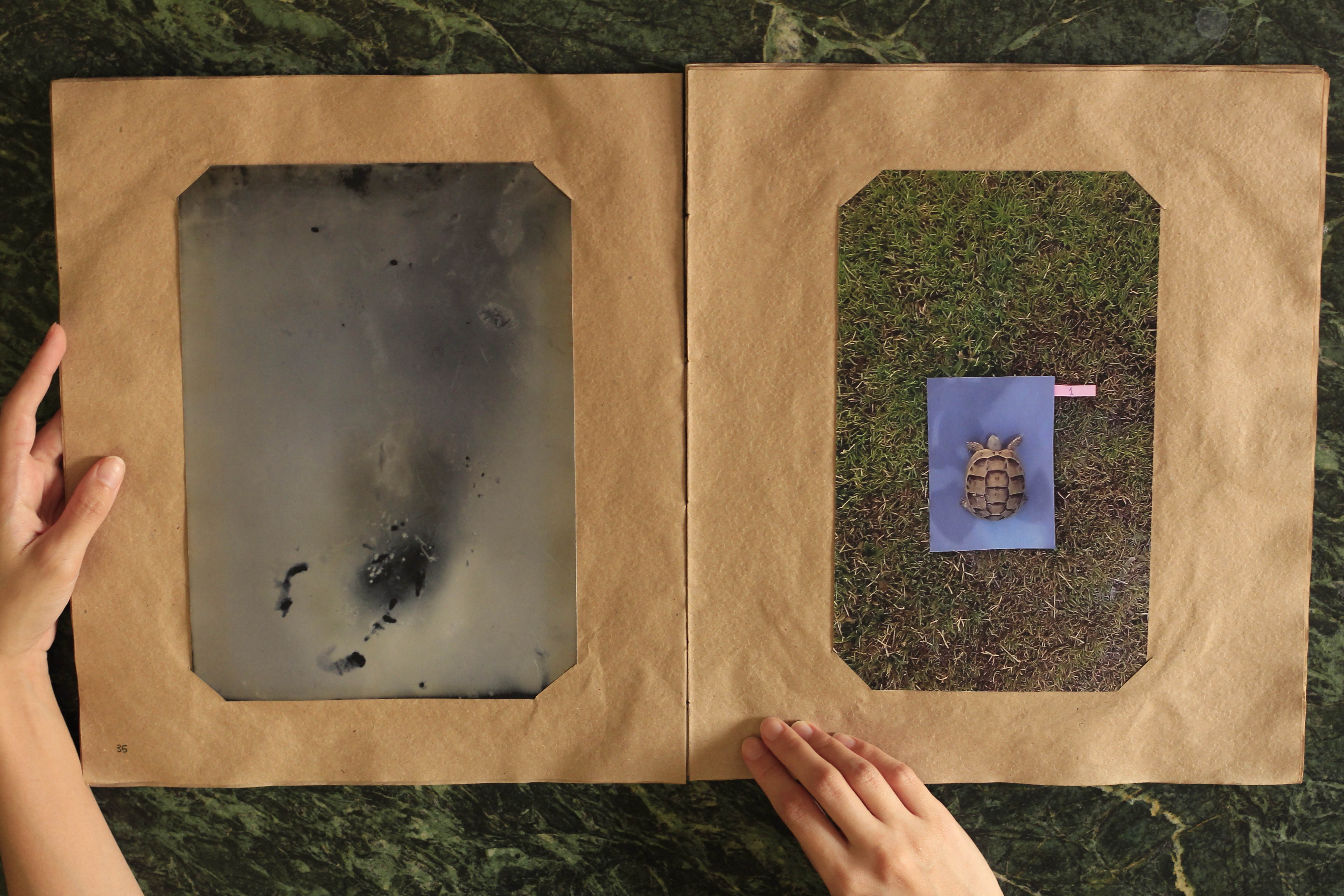 2017
hand-knitted book
B&W photograms with forte photographic paper - scanning skin and body
A transitional phase
Exhibition view of the book in PhotoCairo6, with works in the room by Hend Samir and Assem Hendawi.
2015/2016
B&W photograms with ilford and agfa photographic paper
Early experiments: A day on the beach and A day in the park and others